First Impressions Go a Long Way
A colorful front door does more than just make a solid first impression. It sets a powerful and elevated tone, offering a glimpse of all the good that awaits inside. Consider it an act of doing your home justice all the while upping your curb appeal. After all, once you've spent time and energy decorating the inside, it pays to go the extra mile with an unexpected detail on the outside.
Whether your entry is old, new, Dutch, French, or steel, a splash of paint is all you really need to give it the wow-factor it deserves. To help you get started, we've rounded up a few of our favorite front door colors courtesy of the Pinterest-worthy homes that did it best.
             1.  A daring pink for the ages
Embrace the truly unexpected with a color so vibrant it'll have your neighbors doing a double take. The interior of this converted tiny house may be grounded in neutrals but the custom hot pink door and a matte black facade is a true lesson in going bold and nailing it.
              2. A not-so-mellow yellow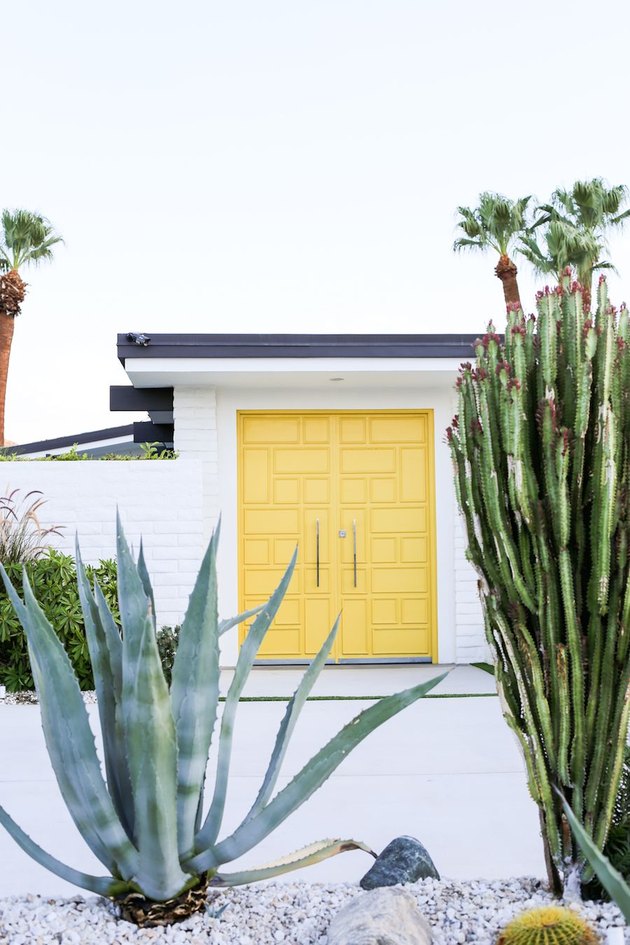 Palm Springs is known for its fair share of colorful doors and this cheery entry captured by Andrea of Salty Canary is no exception. While the vibrant hue beautifully contrasts the stark white exterior, it also serves as a flawless complement to the towering palms and desert flora nearby.
                     3. A serene sage
Take a cue from the outdoors and go for a color that not only complements your surroundings but stands out while doing so. The lightly tinted sage door of this stunning space, designed by Kate Marker, emulates the greenery outdoors while managing to visually elevate the wood shutters and the home's modest exterior.
                   4. A jewel-toned green
The back of your door presents just as much of an opportunity to stand out as the front. Dabito of Old Brand New didn't give up the chance to make a statement in his living room by selecting a vivid Kelly green for his front door color, which plays to the earthy tones of the boho decor yet still remains a moment on its own.
                          5. A sky blue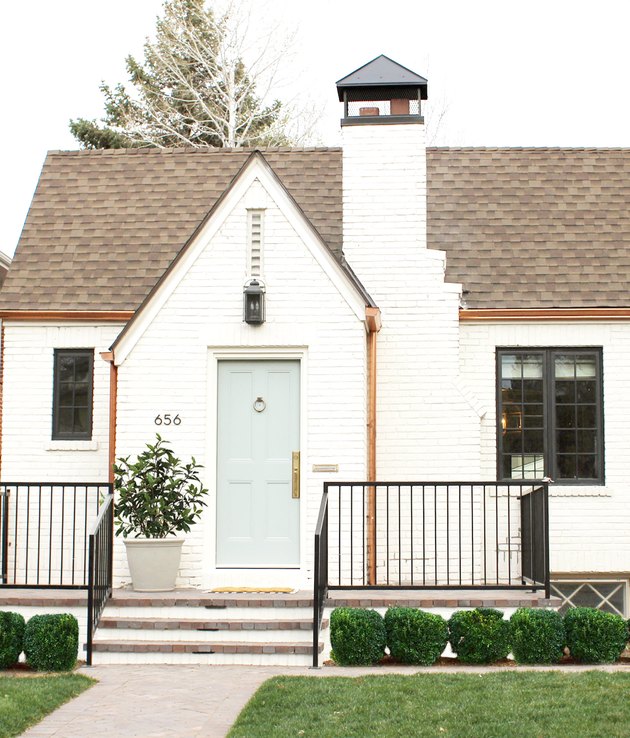 The dreamy shade of sky blue spotted on the front door of Studio McGee's Denver Tudor project is a lesson in embracing an inspired color that doesn't overshadow its surroundings. The soothing hue invites a sense of calm, serving as the ultimate source of welcome.
                            6. A fiery red
Chango & Co.'s elevated take on the modern farmhouse aesthetic involves double doors and a cheeky ode to the classic barn house red. The pared-down black, white, and, red palette, coupled with the home's artful symmetry, and matching accent pieces to boot, allow the front door color to shine in all its vibrant glory.
                   7. An elegant matte black
Black may not be on your list of obvious front door colors, but we're here to set the record straight. It commands attention with effortless flair and can work with a wide variety of design styles as well. Case in point — this country-cool entry belonging to Sarah of She Holds Dearly, uses the dramatic tone to elevate the greige exterior while adding a dose of personality and style.
                        8. A chameleon-like gray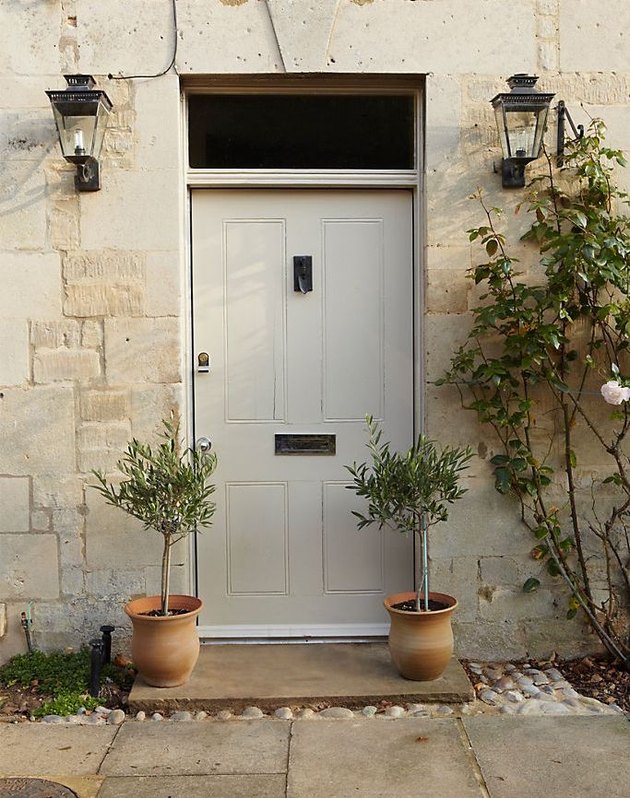 Front door colors don't always have to be vivid or bold. A subdued shade, like this one from Farrow & Ball, is a refreshing step up from the standard array of neutrals. Channeling the soft gray-beige pigments of stone, it serves as a seamless transition from the home's exterior and makes for an even better backdrop for the potted greens that flank the door.
Anna is a New York-based writer and editor with a penchant for travel, design, and interiors.
Click the Link Below to  Sign up for our amazing Bio Monthly New Letter - Full of helpful Hints and Tips just like what you've read above
https://jennybrunet.myhomehq.biz/single-newsletter/design-trends-decorating-a-small-space
ALSO - If you would like to be a guest writer on our Blog;
Please Submitt your article for review to:
coolmtn1@gmail.com or bdotson.coolmtn@gmail.com